Coloured Toilet Seats. In Stock. Bradford. Thermoplastic.
Obsolete Colours. British Made Quality Trade Prices Yorkshire. Celmac Derwent Macdee Kan77 Pressalit.
All Colour Seats Include Cover and Hinges. JSL BATHROOMS. BRADFORD. Armitage Shanks. Ideal Standard.
new. Unused. Original Manufacture. Plastic Toilet Seats at Low Prices. DISCONTINUED COLOURS. Impulse. Mandarin.
Soft Cream Pergamon Primrose Turquoise Peach Pampas Burgundy Pink Peach Champagne Indian Ivory and Many More.

Kashmir Beige Toilet Seat Almond Toilet Seat Jade Green Toilet Seat Bermuda Blue Toilet Seat Indian Ivory Toilet Seat Alpine Blue Toilet Seat
Over 80 Colours In Stock. JSL Bathrooms. Discontinued Colour Specialists. Bradford. YORKSHIRE.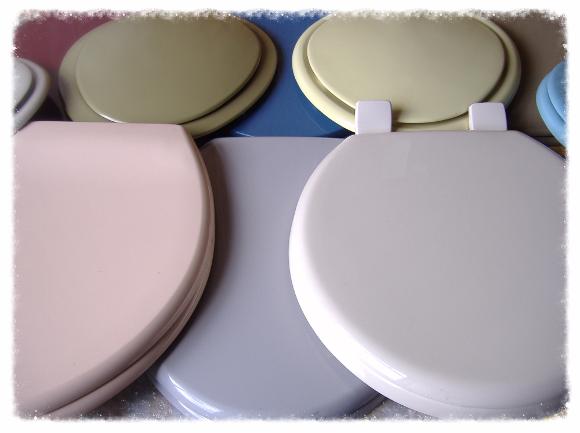 We also have a limited supply of impulse mandarin toilet seats in stock. Genuine Original Manufacture. Link Below.
Sorrento Blue Toilet Seat Primrose Yellow Toilet Seat Misty Peach Toilet Seat Sandalwood Toilet Seat Turquoise Toilet Seat Champagne Toilet Seat
ALL SEATS ARE NEW AND ORIGINAL PRODUCTIONS
To Check Current Coloured Toilet Seat Availability. Please Email Us.
Obsolete And Discontinued Old Colours. New Plastic Moulded British Made Toilet Seats. From £30. White Seats From £3. Trade Prices.
Toilet Seats include cover lid and fixing hinges.
Our Branded Name Toilet Seats Are Manufactured By Derwent Macdee Celmac Kan77 Spring Bathrooms Kingfisher Mandarin Bemis Roper Rhodes Cameron Plastics Vavid Valadares Peters Cavalier Twyford and Many More.
Colours Include... Champagne Soft Cream Pergamon Whisper Grey Whisper Pink Cameo Pink Sky Blue Turquoise Avocado Peach Whisper Peach Soft Mint Primrose Bahama Beige Kashmir Beige Almond Whisky Burgundy Damask Pampas and Many Many More.
Turquoise Colour Toilet Seats Primrose Yellow Burgundy Toilet Seats Whisper Grey Peach Pink Blue Mint.
Celmac Derwent Macdee Peters Of Essex Cameron Plastics Of Skelmersdale Kan77 Pressalit Bemis.
Standard Fit. Oval Wooden Plastic Thermoplastic Moulded Plastic Adjustable Metal Plastic Hinges. Toilet Seats Colour Retro Old.
Hard To Find Toilet Seats. Obsolete Colours. 1960s 1970s 1980s 1990s Pinks Blues Greens Browns Cream Peach Beige.
Avocado Toilet Seat Whisper Grey Toilet Seat Burgundy Toilet Seat Honeysuckle Toilet Seat Sky Blue Toilet Seat Two Tone Pink Toilet Seat
We Stock a lot of different manufacturers model of toilet seat, in a lot of different colours.
Our more popular seats in the more popular colours include the following...
MANY OTHER COLOURS & STYLES IN STOCK. AS wELL AS MORE MODELS IN THE COLOURS LISTED ABOVE
WE HAVE ALMOST 80 ORIGINAL PRODUCTION COLOURS IN STOCK.
Other Colours Available in toilet seats include... Mother Of Pearl/Jasmine. Soft Cream. Indian Ivory. Heather. Whisper Pink/Misty Pink. Crocus. Bali Brown. Sepia. Kashmir Beige. Curry. Whisky. Chiffon Pink. Silver Fox. Wych Elm. Sorrento Blue. Bermuda Blue. Jade Green. Harmony Green. Perola. Gazelle. Bamboo. Linden Green. Sorbet. Emerald Green. Willow Green. Freshwater. & More.
Please Contact Us For Availability.