Cracked Or Damaged? Acrylic Corner Bath Offset Bath Panels.
Available In White Discontinued Obsolete Colours. Trade Prices.
CORNER BATH PANELS. 1100MM. 1200MM. 1300MM. OFFSET FOR 1500 X 1000MM AQUARIUS
Curved Bath Panels. Champagne Pink Peach Cream Blue Grey Green
JSL Bathrooms. Bradford. Yorkshire. Specialists In Hard To Find Bathroom Products and Parts.
Corner Bath Panels and Offset Corner Bath Panels Page.
JSL Bathrooms. 17-19 Carter Street. Bradford. Yorkshire. BD4 7AN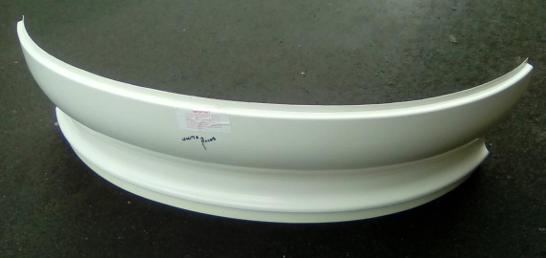 NOTA BENE...
Our Corner Bath Panels Only Fit Corner Baths Manufactured By Aquarius Bathrooms Of Halifax.
Corner Bath Panels Are Generally Not Interchangeable, Or Compatible With Baths Of Different Manufacture.
Therefore You Will Need To Know The Manufacturer Of Your Bath And Then Find A Stockist For That Model.
Even If The Dimensions Of The Bath And Panel Are The Same, The Curved Arc May Not Be, And If You Fit A Bath Panel With An
Incorrect Arc It Will Break Due To Stress Fractures.
You should First contact the company from whom you purchased your bath.
OUR ADVICE...
If Your Corner Bath Is Not An Aquarius Bath Or If You Are Unsure...
We Suggest That You Consider Cladding Or Tiling Around The Bath Instead Of Questing For A Panel. (See Below: Clad/Tile?)
Alternatively... You may (If Possible) want to consider repairing your panel and having it resprayed. (See Below: Repair)
OUR BATHS...
Aquarius Capricorn. Aquarius Aegean. Aquarius Pisces. Aquarius Aries. Aquarius Classic.
Acrylic And Fiberglass Offset And Corner Bath Panels In Stock. In White And A Range Of Obsolete Colours.
For Bath Sizes 1100 X 1100mm. 1200 X 1200mm. 1300 X 1300mm. 1500mm x 1000mm.
OUR AQUARIUS BATH PANELS WILL ONLY FIT AQUARIUS BATHS.
CLAD/TILE?...
If you cannot find an appropriate panel due to the shape, colour or size, then consider tiling or cladding it. This is fairly easy to achieve, is stronger than a plastic (acrylic or fiberglass) panel, looks better and is often cheaper and less time intensive. Be careful when using any sharp tools, always cut away from you with sharp blades, and be wary of any product that may have sharp edges or rough points.
(1) Simply use (2x2") Battens every 18" or so from the frame of the bath down to the floor (securing each end Where possible). This will aid in the support of the bath and provide fixing points for the next part. You may also want a batten at either end fixed to the wall.
(2) With the battens in place you can now either bend (pre-cut) cladding around the Curvature of the bath, or affix (Pre-cut) Hardboard sheets around the curved side, ready for the next part. A good staple gun makes light work of this type of fixing.
(3) If you are wanting to tile around the bath and have followed the above steps, then you are now Ready to tile. We advise soaking tiles in water the previous night to absorb water into the backing biscuit. This will aid in allowing more time before drying out. (A dry tile will suck the moisture from the grout very quickly).
(4) You will first want to decide where your tiles will go, if you are using different or feature tiles, it is worth marking down notes on a piece of paper or technological device. When tiling rooms it is usually the case that you would tile the bottom row first, and work your way up towards the ceiling. This way the previous row (owing to gravity) should help support the row of tiles that you are applying. With tiling in a bath however you may want to consider the focal area. If for example you are using skirting over the tiles and your final row of tiles are lesser in height than your skirting, you may wish to tile down to the floor. Tile spacers are advised for easy and equal spacing
(5) Measure the area that you wish to cover, and perform any cuts accordingly, Remember to allow room for grouting joints. If you are unsure then you may want to cut as you go. Ideally you would use the same tiles as the rest of your bathroom, or you may choose to contrast them. This is also true with your choice of grout colour & spacing.
(6) We Recommend good quality mould Resistant waterproof grout. Remember grout is always easier to clear before it has dried. It is best in most cases to wipe the excess off of the tiles before it has dried. One wet cloth for wiping down, and one dry cloth for cleaning off usually works best.
Suggested Tools :- Stanley Knife. Wood-saw. Measuring Tape. Pencil. Straight Edge. Tile Spacers. (Tile Cutter). Bucket of water. Cloths. Appropriate screws. Appropriate Screwdriver. Quality Staple Gun. Appropriate Staples. (Hammer & Drill & Bits depending on fixing type).
REPAIR...
If your panel has a gauge, or even a large crack down it, often this is central as around the top. Then in most cases it can be repaired by using fibreglass Patches to strengthen the affected area, and then filled with an epoxy resin, or similar car bodywork filler. Once dried and sanded to a smooth finish, this can be painted by a Car Sprayer, who can colour match to your needs.
If you are Talented with Craft and spray cans, knowing your enamel from your acrylic paint. Then you could give it a go yourself. What have you got to lose, If you were going to throw the panel into a skip anyway? We don't Recommend using gaffer tape (or similar) or bluetac to repair a bath panel, it is always best to research your topic first, without jumping straight in.
We do not offer a repair service ourselves. There are Youtube videos which discuss various topics about DIY to help around the home.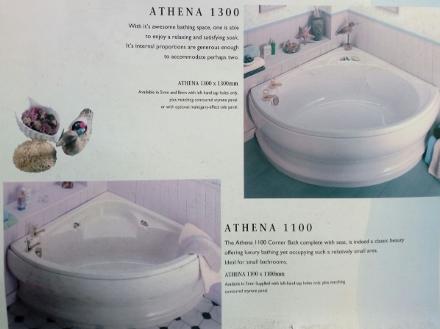 True Corner Baths. By Aquarius of Halifax. Athena & Aegean Models.
1100x1100mm 1200x1200mm 1300x1300mm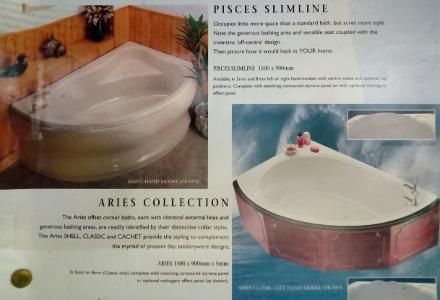 Offset Corner Baths. By Aquarius of Halifax. Aries & Pisces & Capricorn Models.
1500x1000mm (900mm On Return End, 1000mm At Widest Point)
1300x1300mm corner bath panels.
MORE POPULAR AVAILABLE COLOURS INCLUDE:-
Alpine Blue
Bermuda Blue
Chablis
Champagne
Honeysuckle
Indian Ivory
Melba Peach
Mint
Misty Grey (Whisper Grey)
Misty Peach (Whisper Peach)
Misty Pink (Whisper Pink)
Peach (Shires Peach)
Soft Cream
White
Cracked Corner Bath Panels? Colour Plastic Replacements UK
Aquarius Corner Bath Panels. White Colours. 1100 1200 1300mm
Cracked Or Damaged? Acrylic Corner Bath and Offset Bath Panels.
Available In White and Discontinued Obsolete Colours. Trade Prices.
CORNER BATH PANELS. 1100MM. 1200MM. 1300MM. OFFSET FOR 1500 X 1000MM AQUARIUS BATHS.
Please Email Your Size and Colour To Check Our Stock.
JSL Bathrooms. Bradford. Yorkshire. Specialists In Hard To Find Bathroom Products and Parts.
Corner Bath and Offset Corner Bath Panels Aquarius. In sizes 1100mm 1200mm 1300mm 1500mm White and various colours in stock offset 1500 x 1000mm. Bradford.
1000mm, 1200mm 1300mm 1500mm, bath, panel, corner, colour, coloured, corner bath panel, panels, acrylic, sage, champagne, ivory, pink, blue, cracked, damaged, offset corner panel, grey, whisper grey, peach, wild sage, bathroom