Bath Handles Grips
Chrome Finish. Antique Gold Finish. Ultra Gold Finish. Bath Grips and Handles.
Tubular bar fixings for the bath. Plate handles Various Sizes Styles Shapes Colours.
Centre to Centre measurement bath handles Bath Grips Make It Easier To Stand Up And Exit The Bath Without Slipping.
Many Sizes For Many Baths. Unfortunately there is no universal fit, so measuring is important. JSL Bathrooms Bradford. Yorkshire.
Bath Handles/Grips
Some of the many bath grips and handles that we have in stock. In a wide range of sizes, shapes, styles, and colour finishes. Including chrome, antique gold and the darker ultra gold. Metal and plastic handles available for tubular fitting and plate fitting. We also have removable handles that secure to the bath with bolts and grub screws, making it easier to Detach them for cleaning or Replacing.
It is always recommended that you send us a picture of your existing handles and take a measurement of the distance between the holes. This measurement is Taken from the centre of one hole to the centre of the other hole in a straight line.
Flat to flat handles on both ends are the easiest to replace as the only consideration required is the measurement of the hole centres.
If one or both ends of your handles are not both flat on the horizon with an angle of 180 degrees, and do not have two lines of Symmetry then things become a little trickier. There is no such thing as a standard bath handle or a universal fit. Bath grips are like car doors, you can't just take a door off one car and hope that it will fit another. You need to know the manufacturer and the model, and sometimes even the year of manufacture.
In most cases our advice on handles is to remove, re-plate, and refit them. Only in cases of extreme wear should you consider new handles.
UNIVERSAL BATH HANDLE'S HOLES CAPPING KIT.
To Replace Bath Handles.
If you are more concerned about covering the unsightly holes in the bath that will be left behind, if you don't/can't replace your handles, then we offer a Solution. Four cap off Allen headed bolts with washers, nuts and an allen turning key included.
If you're not bothered or unable to replace your handles then this kit will allow you to cap the holes off securely, and with minimal fuss. Providing that you have access to the rear/underside of the handle holes. Bolts are supplied with rubber 'O' ring, and nylon washers, as well as 'Locking' nuts, which make the bolt less likely to come undone due to vibration or movement. An appropriate sized allen key is also included.
Capping Kit Priced at £6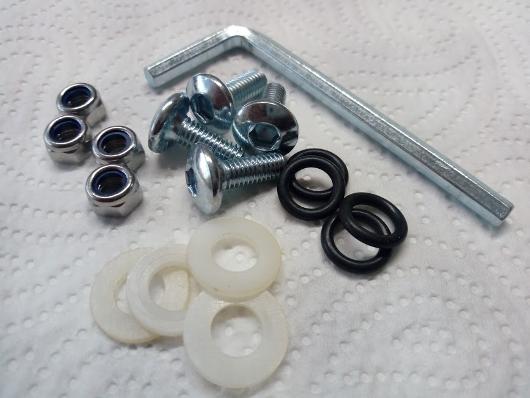 Pictured. Bath Handles Hole Replacement Fixing Kit.
For general inquiries you can Contact us on The Link Below.