Complete Showers. Quality Branded Products.
Chrome Plated Thermostatic Shower Valves and Slide Rail Kits.
Quality Showers and Kits. JSL Bathrooms. 17-19 Carter Street. Bradford.
THERMOSTATIC WALL SHOWER MIXER BAR VALVE and SLIDE RAIL RISER KIT. CHROME. MANUAL SHOWER MIXERS. GREY. IVORY.
We Have Very Limited Stock Remaining On These Quality Thermostatic Shower Mixer and Slide Rail Kit Bundles.

We also have a limited supply of singular pieces by quality branded names such as Armitage Shanks and ideal Standard. Weighty Brass Valves.
Manual and Thermostatic.
Armitage Shanks. Ideal Standard. Safemix. Victoria. Monolux. Ideal Blend. Gold. Chrome. Traditional. Retro Style. Showers Of The 1970s. 1980s. and Modern Thermostatic Shower Valves. Exposed Pipes. Concealed Valves. Slide Rail Riser Kits. Bar Valves. Wall Mounted. Separate and Freestanding.
Abbott Wall Shower. £40
Thermostatic Mixer Valve
Square Shower Handset
Shower Hose Pipe
Wall Connectors
Cover Plates
Slide Rail and Fixings
Soap Dish
Low/High Pressure
Chrome Finish
OUT OF STOCK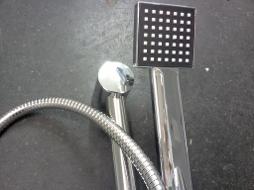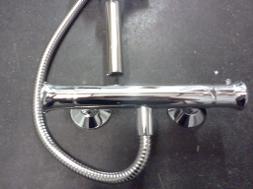 Includes Valve and Wall Riser Kit
Costello Wall Shower. £65
Thermostatic Mixer Valve
Multi Setting Shower Handset
Shower Hose Pipe
Wall Connectors
Cover Plates
Slide Rail and Fixings
Chrome Finish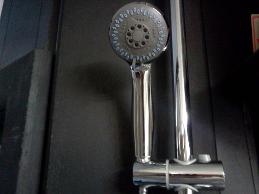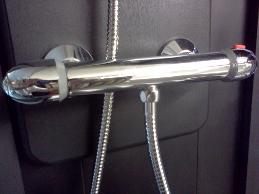 Includes Valve and Wall Riser Kit
TECHNICAL TERMINOLOGY BREAKDOWN
MANUAL VALVE SHOWERS
A manual shower valve simply acts as a valve that mixes hot and cold water. There is no other technology involved other than Manually setting the difference yourself, any number of factors can change the temperature of the mixed flowing water after the mix has been set, as this manual method is prone to change by the boiler output and pressure drop caused by another valve or tap opening on the same system.
THERMOSTATIC VALVE SHOWERS
A thermostatic shower is similar to a manual valve but has two main differences, firstly it has a temperature dial which mixes the hot and cold water together for you without each having to be adjusted separately. The second is a safety feature which in case of a pressure drop on the cold feed the valve will cut off to help prevent scalding.
ELECTRIC SHOWERS
An electric shower has the benefit of setting the temperature as a thermostatic valve, and can often include a pump for better flow and pressure, though this technology comes with additional potential problems and is prone to complications more than mechanical shower valves. It also requires an electric feed so is more work to install over a mechanical shower and it will not function if the power is cut.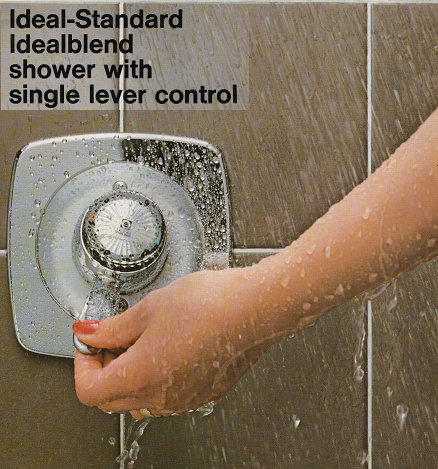 We have a limited stock of ideal standard idealblend manual lever monolux shower valves in stock.
Superior Quality.