Discontinued Obsolete Bathroom Colours Chart.
Obsolete Discontinued Bathrooms. Whisper Grey Green Blue Pink Champagne Ivory Sorbet.
Soft Cream Pergamon Burgundy Pampas Primrose Baths Toilets Basins Bidets Shower Trays
Avocado Coral Cameo Pink Mink Sepia Sandalwood Whisky Wild Sage
Colour Baths Basins Toilets Bidets Seats Panels Shower Trays Pedestals Cisterns Pans
Colour Chart Of Discontinued Obsolete Bathroom Colours. Chart Meant To Serve As A Guide Only. Actual Colours Will Vary Depending On Manufacturer and Material, As Well As Other Factors. JSL Bathrooms. Bradford Yorkshire United Kingdom.
Unfortunately We Can No Longer Supply Physical Colour Charts Or Samples. Though We Recommend Matching To Ceramic.
These Colour Illustrations Are Nothing More Than A Vague Guide. See Below. More Colours In Stock.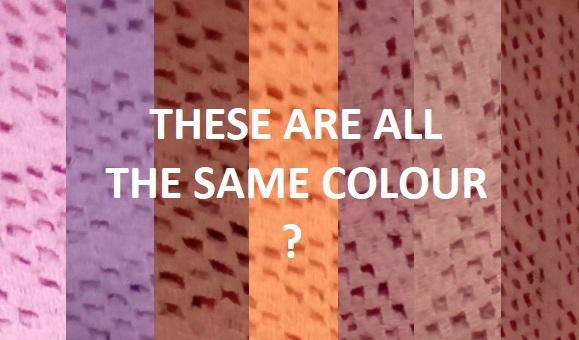 YES! THESE ARE ALL THE SAME COLOUR.
Digital Colour Distortion.
All of the above Vertical stripes are pictures of a blanket. The pictures are taken within seconds of each other by the same camera, with the same settings, under the same light, and yes, of the same blanket, Yet... They look completely different. Only the angle of the camera has changed slightly, this change in angle results in either more, or less light entering the lens and provides a shift in hue Differential. This is a great illustration to show how Multiple pictures of the same item can look so different, even when taken in almost exactly the same conditions. This is what we mean when we say it is always best to match to ceramic, or plastic depending on your item. Colours on a screen can vary Drastically, try changing the angle of your screen on the picture above, and you'll see what we mean, and that is even before you change the brightness setting up or down, or alter the contrast or colour settings. With this in mind please understand that it is almost impossible for us to identify your colour from a photograph, and... if we send you a picture it will certainly look different to what it actually is. as with the picture above, none of these even look like the blanket.
Some Of Our More Popular Colours
We Specialise In Obsolete and Discontinued Old Colours Such As... Indian Ivory Champagne Burgundy Damask Avocado Wild Sage Pampas Primrose Yellow Pergamon Soft Cream Whisper Blue Whisper Grey Whisper Peach Whisper Green Whisper Pink Coral Pink Cameo Pink Harvest Gold Sorrento Blue Alpine Blue Bermuda Blue Bali Brown Kashmir Beige Mink Sepia Autumn Tan Peach Melba Shires Peach Jade Green Jade Blue Sky Blue Turquoise Sun King Almond Sandalwood Mocca Silver Fox Harmony Green Rustic Green Freshwater Gazelle Whisper Cream Sable Romany Blue Grass Azure Blue Rosewater and Many Many More.
Baths Shower Trays Basins Pedestals Pans Cisterns Toilets Toilet Seats Bath Panels Bidets
All New Products. All Original Products. All At Trade Prices.
Powder Green Pale Blue Dark Red Dark Green Deep Brown Light Pink Pastel Cream Peachy Beige Colours.
Branded Names Including Ideal Standard Royal Doulton Stelrad Shires Bathrooms Spring Ram Twyford Trojan Aquarius.
Armitage Shanks Impulse Vitra Caradon Qualcast Baths Basins Toilets Bidets Taps Panels Seats.
Whether it is a broken loo seat, or the rare old-toilet that it is sat upon we may be able to help. Check out our discontinued colour chart for that odd colour that you though you couldn't get anywhere. When the plumber scratched at their chin and said 'You won't get one of those anywhere'. We specialise in bathroom colours, in coloured baths, basins, bidets, toilet-seats and bath panels. We also have a selection of shower trays Available.
bath-panel coloured baths obsolete colour chart toilet-seat Odd old basin color chart discontinued colourchart bathroom-colours old-toilet Rare broken loo seat
Old Obsolete Bathroom Colours. Replacement Parts Spares
Colour Chart For Old Bathrooms Obsolete Discontinued Basins Toilets Panels Seats Bidets Coloured Baths Suites in Stock Soft Cream Pampas Pink Blue Brown. JSL
Rare, obsolete, discontinued, colours, color chart, colourchart, bathroom colours, bathroom-colours, old basin, old-toilet, broken loo seat, toilet-seat, bath-panel, coloured bath, obsolete colour chart, Odd, old, coloured baths
Discontinued Obsolete Bathroom Colours Chart.
Specialists In Obsolete Discontinued Bathroom Products. Whisper Grey Green Blue Pink Champagne Ivory Sorbet.
Soft Cream Pergamon Burgundy Pampas Primrose Wild Sage Baths Toilets Basins Bidets Shower Trays
ACTUAL COLOURS WILL VARY IN BOTH PLASTIC AND CERAMIC.
Colour Baths Basins Toilets Bidets Seats Panels Shower Trays Pedestals Cisterns Pans In Stock. JSL Bradford.