Almond Colour Bathrooms Products.
Almond Baths Panels Toilets Seats Basins Obsolete Discontinued Twyford
THE PRODUCT ON THIS PAGE IS MEANT TO SERVE AS AN ILLUSTRATION OF ITS COLOUR.
ALMOND IS A CROSS BETWEEN A WATERY YELLOW AND A RIPE PEACH. IT REFLECTS LIGHT EASILY WHICH CAN MAKE IT APPEAR DECEPTIVELY PALE.
IN THE SHADOWS IT BETRAYS THAT CHARACTERISTIC AND CAN SEEM MEDIUM DARK.
Almond Is A Very Light Peachy Cream. It reflects light very well and the smallest amount of photons that dance along its surface elevate the shade of cream to almost majestic tones. Almond basins Bidets Toilets Seats Twyford Derwent Macdee Peters One Tap Hole. Two Tap Hole.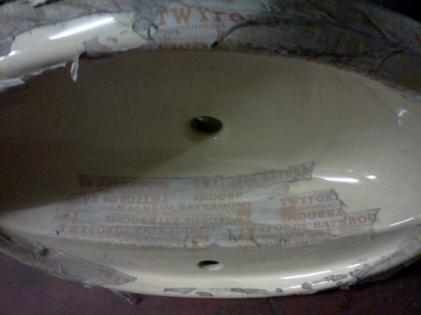 Pictured. British Made Monobloc One Tap Hole Large Bathroom Pedestal Basin By Twyford Bathrooms
Naturally there will be a variance due to model of camera used and the equipment that you are currently viewing this page on. Unless you are certain of the colour you require, there is no substitute for bringing a physical sample in to our store with you.