Wooden Toilet Flushing LeverHandle
MAHOGANY and TARNISHED BRASS WOODEN CISTERN TOILET LEVER HANDLE
DELIGHTFUL RUSTIC STYLED CISTERN LEVER. MAHOGANY and TARNISHED BRASS.
British Made Quality Product. Fits Most Front Lever Type Toilet Cisterns.
Includes Cistern Lever Arm, Rod, Fixing Washer and Nut. Jsl bathrooms. bradford. yorkshire
QUALITY TRADITIONAL MAHOGANY AND TARNISHED BRASS FINISH CISTERN LEVER HANDLE.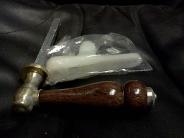 Ideal for cottage style or traditional look bathroom, En suite or cloakroom.
Quality Manufacture. Tarnished Brass and Mahogany Finish Flush Handle.
Olde Worldy Toilet Flusher. Flush Handle Lever. Stylish Victorian Edwardian Georgian Piece.
Mahogany and tarnished brass cistern lever flushing handle. £15
Fits Most Standard Toilet Cisterns.