Box Of Ten (10X) Shower Head Handsets
Shower Handheld Heads Chrome Plate ABS
Multi Trade Bulk Box. Special Offers. UK
UK Standard 1/2" BSP Threaded Hose Connection
JSL Bathrooms Bradford Yorkshire UK Shower Parts and Spares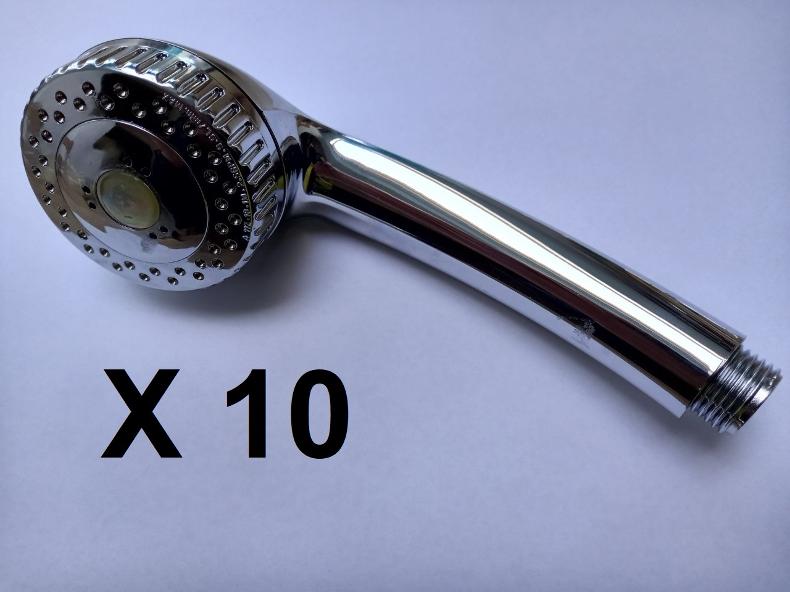 10 X Shower Handsets.
2 Position Spray Patterns.
Chrome Plated ABS
Standard 1/2" BSP Threaded Hose Connection
Total Handset Length Approx. - 190mm
Face Dial Diametre Approx. - 60mm
Suitable For High Or Low Pressure.
£40 (Per Box Of Ten)
PRODUCT CODE - CPSH40
Bulk Pack Trade Discount Special Offer Shower Handsets
Pack Of 10 x Chrome Plated ABS Shower Handsets UK
A bulk trade discount box pack of ten shower handsets. Chrome plated ABS finish. Standard UK connection of 1/2" threaded hose connection. Special discount.
bulk showers, bulk shower heads, trade shower heads, trade shower pack, bulk shower pack, chrome plated handset bulk, chrome plated shower handsets bulk, bulk buy showers, bulk buy shower heads, bulk buy shower handsets, trade showers uk
Box Of Ten (10X) Shower Head Handsets
Shower Handheld Heads Chrome Plate ABS
Multi Trade Bulk Box. Special Offers. UK
UK Standard 1/2" BSP Threaded Hose Connection
JSL Bathrooms Bradford Yorkshire UK Shower Parts and Spares
© Copyright JSL Bathrooms