Roca Frontalis High Back Ceramic Wall Mounted Basin 3 27580 00 0
Heavy Duty High Quality Vitreous China Inset Bathroom Basin
High Back Barbican Style Large Ceramic Wash Basin
JSL Bathrooms Bradford Yorkshire. Specialists In Quality Ceramic Sanitaryware
Weiss / Bianco / Branco / Blanc / White / Blanco 3 27580 00 0

A real piece of Ingenuity from the quality manufacturers ROCA. A high backed ceramic barbican styled splashback wash basin with wall mounted single monobloc tap hole. Ideal for restaurants, cafes, professional workplaces, large bathrooms, clubs, and offices.
ROCA - FRONTALIS - £450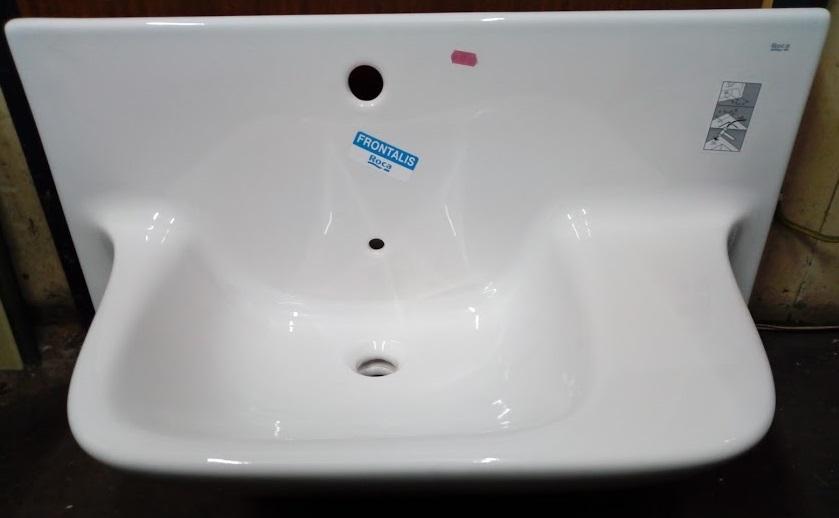 ROCA - FRONTALIS - HIGH BACK WALL INSET MOUNTED WASH BASIN
CODE NUMBER 3 27580 00 0
High Splash Back Barbican Style & Mono Single Tap Hole (Wall Inset Mounted)
HEIGHT Approx. 435mm
WIDTH Approx. 795mm
DEPTH (Projection) Approx. 420mm
Perfect For High Class Office En-Suites & Restaurant Restrooms.
Made From Vitreous China.
Roca - Frontalis High Back Ceramic Wall Mounted Basin 3 27580 00 0
Heavy Duty High Quality Ceramic Bathroom Basin
High Back Barbican Style Large Ceramic Wash Basin
JSL Bathrooms Bradford Yorkshire. Specialists In Quality Ceramic Sanitaryware
Weiss / Bianco / Branco / Blanc / White / Blanco 3 27580 00 0
The 800mm (80cm) Wall Mounted High Splashback Ceramic Sanitaryware Piece By Roca. The Frontalis High Backed Wash Basin. Approx. 800 x 435 x 420mm.
roca, frontalis, roca basin, rocas splashback, splashback basin, high splashback basin, wall mounted basin, large basin, large roca basin, roca frontalis, roca frontalis basin, splashback basin wall, wall mount splashback, splashback wall basin, inset wall basin