Wooden Toilet Flushing Lever Handle Ultra Gold Pine
PINE AND ULTRA GOLD WOODEN CISTERN TOILET LEVER HANDLE LUSTRON
DELIGHTFUL VINTAGE STYLED CISTERN LEVER. PINE AND DARK GOLD.
British Made Quality Product. Fits Most Standard Front Lever Toilet Cisterns. Pine Wood
Includes Brass Fixing rod, and adjustable Slide Fitting. JSL Yorkshire UK

QUALITY TRADITIONAL PINE AND ULTRA GOLD FINISH CISTERN LEVER HANDLE.
Large Version. Approx. 115mm Long Handle. Approx. 115mm Long Spindle. Approx. Overall Projection 170mm.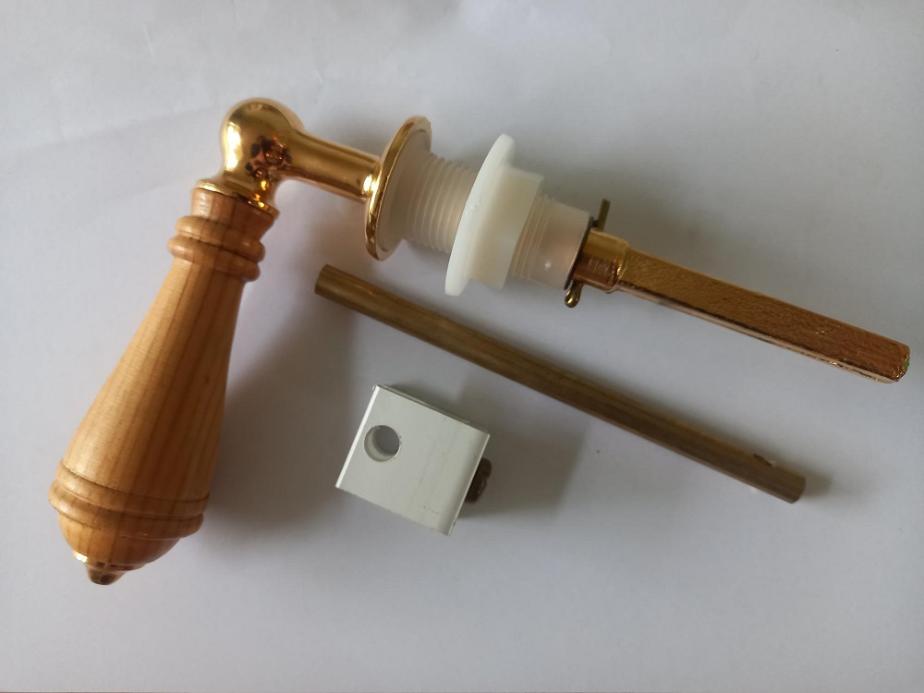 Ideal for cottage style or Classic traditional look bathroom, En suite or cloakroom.
Quality Manufacture. Ultra/Lustron/Dark Gold and PINE Finish Flush Handle.
Olde Worldy Toilet Flusher. Flush Handle Lever. Stylish Victorian Edwardian Georgian Piece.
Ultra Gold is a darker orange shade of Gold. Similar to the Armitage Shanks lustron gold.
Pine and Ultra Gold cistern lever flushing handle. £40
Fits Most Standard Toilet Cisterns.
Pine Wood and Ultra Gold Toilet Cistern Lever Handle. British Made. JSL Bathrooms. Bradford. Yorkshire. UK Classic Vintage Flusher. Loo Handle Retro
wooden toilet flushing handle, lever, wood lever, toilet flusher, flusher, handle, pine, victorian, old, fashioned, wooden handle, wood cistern lever, wood flusher, lustron gold lever, ultra gold lever, loo flusher, traditional toilet lever, retro, pine gold lever
Pine Ultra Gold Traditional Toilet Cistern Flush Lever UK
Classic Toilet Flushing Handle Lever Lustron Gold UK
Wooden Toilet Flushing Lever Handle Ultra Gold Pine
PINE AND ULTRA GOLD WOODEN CISTERN TOILET LEVER HANDLE LUSTRON
DELIGHTFUL VINTAGE STYLED CISTERN LEVER. PINE AND DARK GOLD.
British Made Quality Product. Fits Most Standard Front Lever Type Toilet Cisterns. Pine Wood
Includes Brass Fixing rod, and adjustable Slide Fitting. JSL Yorkshire UK