Peach Bathroom Basins By Leading Branded Manufacturers
Ideal Standard Qualcast Carradon Topravit Bathroom Basins For Pedestals
Replacement Bathroom Basins Sinks In Peach Colour
Discontinued and Obsolete Bathroom Products In Peach Colour
Large Basins and standard size replacement basins JSL Bathrooms Bradford Yorkshire UK

We stock many bathroom basins in the now discontinued colour Peach. From top branded and mostly british made manufacturers. From standard size and small wall mounted to larger types in one hole and two hole combinations. We have much more available in stock that cannot be listed here.
Peach Basins (Shires Peach & Peach Melba)
A TALE OF TWO PEACHES
There were two very similar peach colours in production throughout the 1980s. One was known as peach and Latterly as shires peach, the other was peach melba, also known as melba peach. Though very close there is a shade of difference which is very noticeable when the two colours are side by side. Shires peach tends to have a tint of orange in it, whereas melba looks more pinkish with a hint of yellow when placed next to its slightly darker peachy cousin. It can be difficult to tell which colour is which unless you have a sample of both side by side. There was also of course 'Whisper Peach' also known as Misty Peach, but this was much lighter and a very distant relation, most likely an illegitimate sibling to soft cream or pergamon. Sometimes whisper peach was also confused with indian ivory or chablis, but only by people who didn't know their apples from their oranges. The usual way to tell the difference is by the manufacturer, but some companies had the cheek to make both of these peach colours. There are a plethora of peachy colour bathroom basins, but these are the popular two with the word 'peach' in their name.

PEACH MELBA
SADLY NOW OUT OF STOCK

The Two Peach Colour Illustrations. Please note that Whisper Peach Also Known As Misty Peach Is Absent From This Presentation.
Caradon Bathrooms Basin. OPTIMA
Two Tap Holes
APPROX. SIZE 590 x 460mm
Tap Hole Centres 200mm
SHIRES PEACH COLOUR
IN STOCK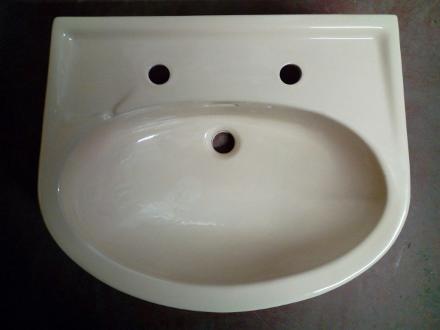 Topravit Basin.
Two Tap Holes
APPROX. SIZE 590 x 435mm.
Tap Hole Centres 205mm
SHIRES PEACH COLOUR
IN STOCK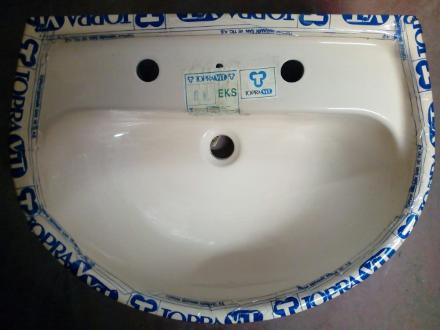 Topravit Scalloped Basin.
Two Tap Holes
APPROX. SIZE 610 x 435mm
Tap Hole Centres 205mm
SHIRES PEACH COLOUR
IN STOCK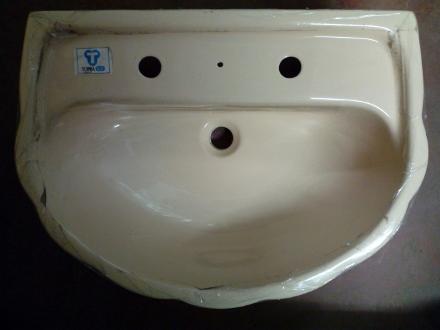 We Have Even More Peach Basins In Stock In Various Shapes, Styles & Sizes. Please Enquire.
Peach Bathroom Basins. Caradon Twyfords Topravit Shires
Branded Name Replacement Peach Colour Sinks JSL UK
Peach colour bathroom basins sinks. Shires Peach. Peach Melba. Two very similar peaches. Branded Names like caradon, twyfords, shires, topravit, aquarius.
peach basin, peach basins, peach melba basin, shires peach basin, shires peach sink, melba peach sink, peach sinks, twyfords peach basin, shires peach bathroom sink, peach bathroom sink, topravit peach basin, twyfords, caradon,
Peach Bathroom Basins By Leading Branded Manufacturers
Ideal Standard Qualcast Carradon Topravit Bathroom Basins For Pedestals
Replacement Bathroom Basins Sinks In Peach Colour
Discontinued and Obsolete Bathroom Products In Peach Colour
Large Basins and standard size replacement basins JSL Bathrooms Bradford Yorkshire UK