Impulse. Oval Shape Toilet Flush Button.
Impulse Bathrooms Oval 'Racetrack' Shape Toilet Cistern Top Push Flush Button.
IMPULSE ELONGATED IMPERIAL OVAL Dual Flush PUSH BUTTON. Rochester. Admiral Rope.
NEW IMPULSE MANDARIN DUAL FLUSH BUTTONS. Special Order.
Chrome Plated Or White Finish Available. Jsl bathrooms bradford yorkshire united kingdom
Impulse dual flush two button push flush. racetrack Oval shape. Toilet cistern.

All Buttons Are New and Of Genuine Impulse Manufacture. Chrome Finish Model Pictured. Admiral Rope. Rochester.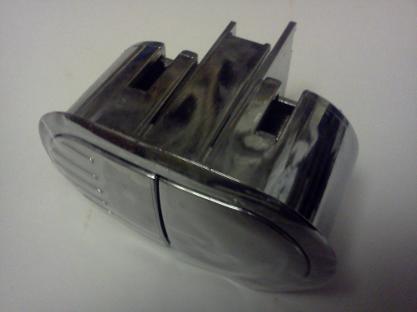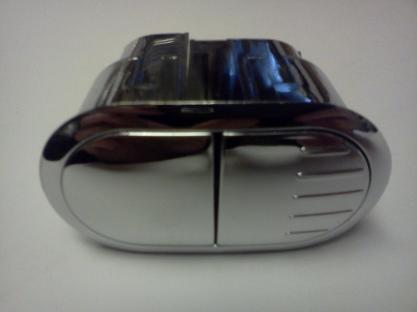 NOTA BENE:
Impulse Mandarin Bathrooms are no longer trading.
In our view they were a quality manufacturer who made very high end specification merchandise.
This is reflected by the way that they packaged their goods. Every cardboard box had a piece of wood in the corners to support it during transit. Hence we never had a broken piece arrive to us, even after a decade of trading with them.
Impulse pottery is some of the most stunning and aesthetically beautiful ever imagined, and the quality of their products do the designs total justice.
These original buttons are now highly scarce and even at the prices demanded by our suppliers, new stock cannot be guaranteed. Please contact us to check whether an order is possible.
Please make sure that this Impulse button is the same type as the one that you wish to replace as Impulse Bathrooms made several different buttons. They are not all necessarily compatible or interchangeable with each other. This dual flush button is available in either a Chrome or a White Finish.
New and Unused.
White Finish £120.
Chrome Finish £150
Genuine Impulse Bathrooms Product.
THIS IS A SPECIAL ORDER ITEM
Impulse Bathrooms Oval Oblong Toilet Push Buttons. Replacement. Cistern. Dual flush button. Mandarin. Elongated Hole. Imperial. Racetrack. Rochester. Rope. UK
Impulse, button, dual, flush, two, hole, chrome, white, elongated, long, wide, toilet, cistern, flush, push, impulse button, dual flush, push button, long, oval button, toilet button