Ideal Standard Branded JETLINE Range Studio Model Ceramic Tap Heads Handwheels
For The Jetline Range. Ivory / Champagne Colour Ceramic Tap Heads
Red and Blue Plastic Inserts To Fit over The Ideal Standard Valve Fitting
Tap Heads and plumbing spare replacement parts of the 1970s 1980s 1990s
JSL Bathroom Suites. Bradford Yorkshire. UK

These original production ceramic tap heads and handwheels by ideal standard for the jetline range are available in ivory/champagne.
The colour is best described as a cross between a very pale green and a cream. Generally Refereed to as one of the off white colours, it is almost white under a bright light, but further detailed inspection shows it to be almost like Yoghurt in hue.
£50 Per Pair.
LIMITED STOCKS REMAIN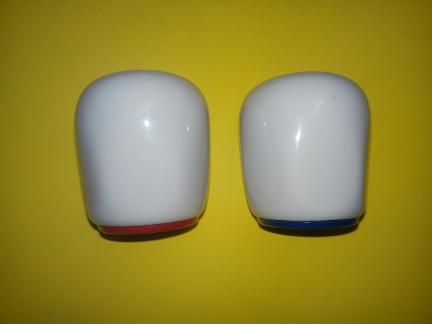 SIDE VIEW. Contoured Thumb Grips At Base. Studio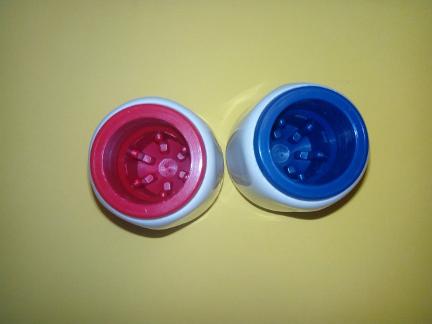 UNDERSIDE VIEW. Six Point Inserts. Studio
Ideal Standard JETLINE Tap Heads. CERAMIC. Ivory Champagne
Handwheels For The Jetline Range By Ideal Standard. UK
ideal standard jetline range tap heads and handwheels. Ceramic tap heads with six point slot grooves and pins.Ivory Champagne colour original manufacture.
ideal standard jetline, jetline tap heads, jetline handwheels, ceramic tap heads ideal standard, ideal standard ceramic handwheels, jetline champagne tap heads, ceramic tap heads champagne, ceramic tap heads ivory, six point tap heads
Ideal Standard Branded JETLINE Model Ceramic Tap Heads Handwheels
For The Jetline Range. Ivory / Champagne Colour Ceramic Tap Heads
Red and Blue Plastic Inserts To Fit over The Ideal Standard Valve Fitting
Tap Heads and plumbing spare replacement parts of the 1970s 1980s 1990s
JSL Bathroom Suites. Bradford Yorkshire. UK