Emerald Green Penthouse Green Colour Bathroom Products.
Emerald Green Also Known As Penthouse Green Is A Very Dark Green Which Picks Up On Light Sources With Ease.
Emerald Green Can Appear To Have A Navy Blue Tint On Occasion.
Emerald Green Penthouse Green Ceramics and Plastics. Discontinued and Obsolete Bathroom Colours. JSL Bathrooms.
Pent Green Baths Basins Bidets Toilets Cisterns Pans Toilet Seats Bath Panels JSL Bathrooms. Bradford. Yorkshire.
Illustration Of Emerald Green Penthouse Green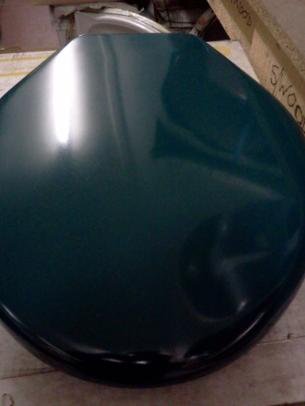 Pictured. Penthouse Green Emerald Green Macdee Toilet Seat.
The Product On This Page Is Meant To Serve As An Illustration Of Its Colour. Emerald Green. Penthouse Green.
Naturally There Will Be A Variance Due To Model Of Camera Used And The Equipment That You Are Currently Viewing This Page On. Unless You Are Certain Of The Colour You Require, There Is No Substitute For Bringing A Physical Sample In To Our Store With You.
Emerald Green Panels. Toilets. Seats. Basins