Small Shell Cloakroom Basin and Pedestal
Spring Bathrooms Basin Qualcast Bathrooms Pedestal
Classic Scalloped Edge Shell Cloaks Basin
JSL Bathrooms Bradford Yorkshire UK
Two Tap hole version of the spring cloakroom small hand basin.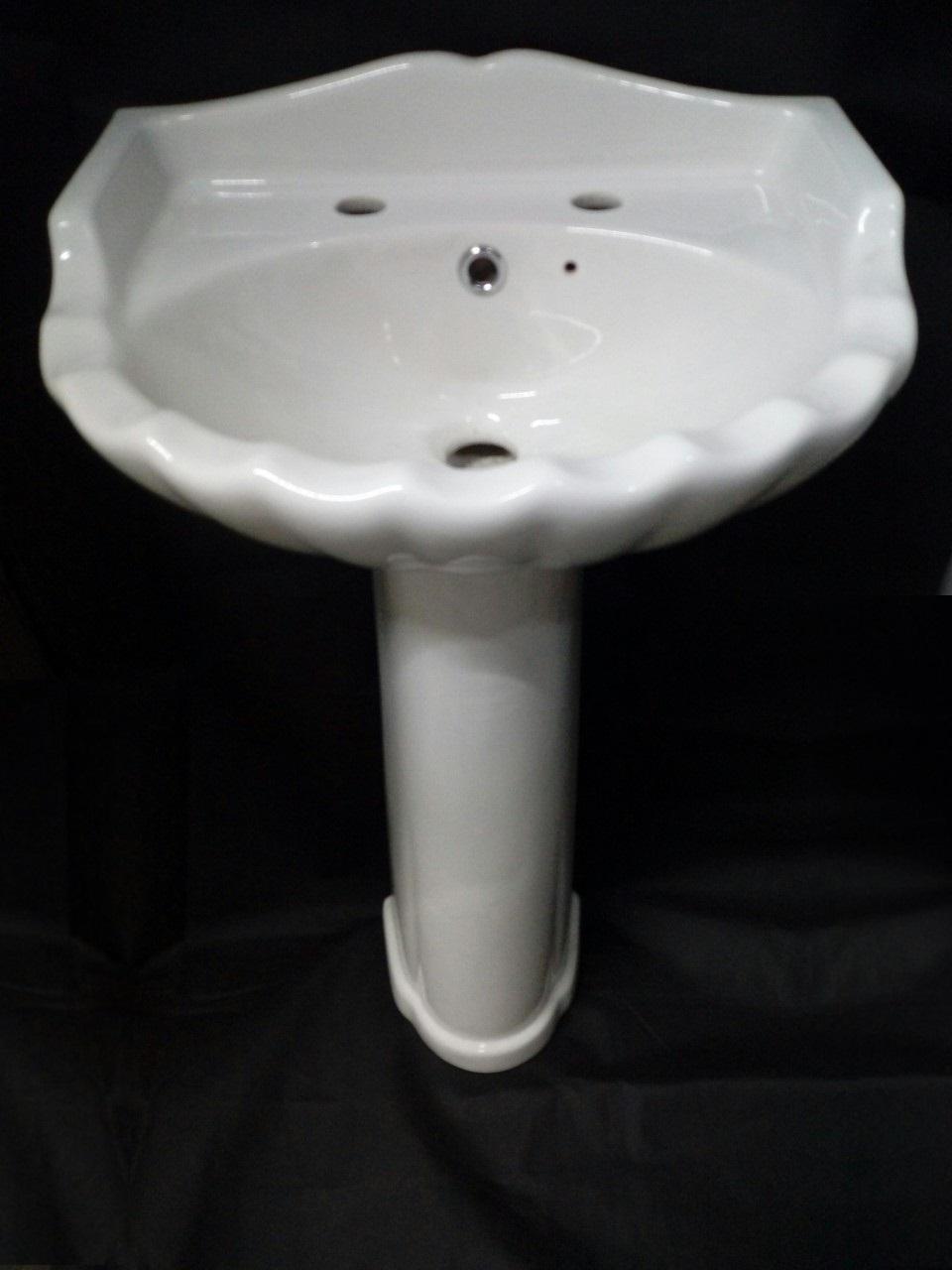 Technical Specifications: Sizes Are Approximate.
Basin Width: 460mm
Basin Projection: (Back To Front) 360mm
Total Height At Back: 830mm
Total Height At Front: 765mm
Pedestal Height: 645mm
THIS BASIN CAN ALSO BE WALL MOUNTED.
BASIN WITH PEDESTAL - £80.
BASIN WITH WALL MOUNTING BRACKETS (No Pedestal) - £60.
This classic scalloped edge basin by spring bathrooms has a good size bowl. It is smaller than a standard bathroom basin so is ideal for a cloakroom, though spacious enough to not make the user feel as though they are missing out on the room associated with a standard size basin. The upstand around the sides and the back of the basin is high enough to not only add a touch of class but to serve as a practical anti splash feature. The basin is supplied here with a scalloped and fluted Qualcast pedestal which has a protruding lip around the base to help cover any previous cut outs in floor coverings. This basin is two tap hole and has draining soap dishes moulded in either side of the tap holes.
Cloakroom Basin With Pedestal. Two Tap Hole. BRITISH MADE
Spring Bathrooms Scalloped Basin with Qualcast Pedestal
A roomy and spacious cloakroom basin with pedestal stand. A classic scalloped edge model with lots of practical features. British made quality. High grade white glaze.
cloaks basin, cloaks sink, cloakroom basin, cloakroom sink, ensuite basin, ensuite sink, scalloped basin, scalloped sink, small basin, shell cloaks, shell basin, scalloped small basin, cloaks basin with pedestal, cloakroom basin pedestal, 450mm cloaks basin
Cloakroom Basin and Pedestal
Spring Bathrooms Basin Qualcast Bathrooms Pedestal
Classic Scalloped Edge Shell Cloaks Basin
JSL Bathrooms Bradford Yorkshire UK
Two Tap hole version of the spring cloakroom small hand basin.