Armitage Shanks Range Basin Mixer 100mm Two Tap Hole
Lustron Gold Plated Brass. Quality Armitage Shanks. Two 2 Tap Hole Basin Mixer 100mm
4" Basin Mixer With Pop Up Waste. Lustron Gold Plated Quality By Armitage Shanks
Classic obsolete discontinued Tapware and Brassware specialists
JSL Bathroom Suites. Bradford. Yorkshire. United Kingdom

PLEASE NOTE. These Taps Have Been In Storage For Many Years And As A Result May Bear Small Marks.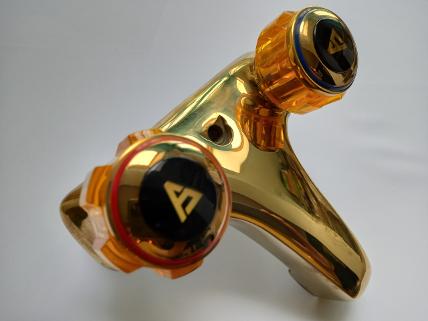 Armitage Shanks Model.
100mm Basin Mixer Tap (4" Centres)
Lustron Gold Plated Finish
Model Number - 69074GA
Standard 1/2" BSP Thread Fitting 2 Tap Hole Mixer
Includes Handwheels & Pop Up Waste
Golden Amber Acrylic Handwheels
Made In The UK
LIMITED STOCK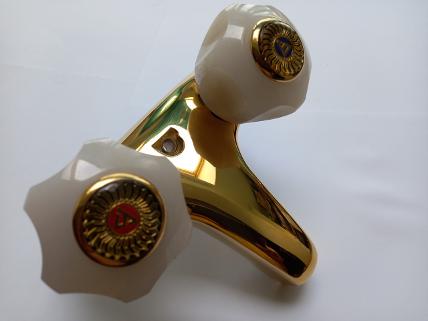 Armitage Shanks Model.
100mm Basin Mixer Tap (4" Centres)
Lustron Gold Plated Finish
Model Number - 69074GO
Standard 1/2" BSP Thread Fitting 2 Tap Hole Mixer
Includes Handwheels & Pop Up Waste
Genuine Onyx Handwheels
Made In The UK
LIMITED STOCK
Armitage Shanks 2 Hole Basin Mixer 4" 100mm Centres
Quality Armitage Shanks 4" Basin Mixer Two Tap Hole Gold
Armitage Shanks Branded Quality Taps. Made in the UK. 4" Basin Mixer 100mm Centres. Model range. Lustron Gold Plated Brass two hole basin mixer. Product code
4" mixer, 4" mixer tap, armitage shanks 4" mixer, armitage shanks 4" mixer tap, 100mm centre mixer, 100mm centre mixer tap, 100mm two hole mixer, two hole tap 4", four inch mixer, four inch mixer tap, armitage shanks four inch mixer
Armitage Shanks Range Basin Mixer 100mm Two Tap Hole
Lustron Gold Plated Brass. Quality Branded Name. Two 2 Tap Hole Basin Mixer 100mm
4" Basin Mixer With Pop Up Waste. Lustron Gold Plated Quality By Armitage Shanks
Classic obsolete discontinued Tapware and Brassware specialists
JSL Bathroom Suites. Bradford. Yorkshire. United Kingdom