About Us. Jsl Bathroom suites. Bradford. Yorkshire.
OVER A HUNDRED BATHS ON DISPLAY. CERAMICS & PLASTICS STOCKISTS. Bradford Warehouse. Map.
Over 80 Colours In Discontinued & Obsolete Bathroom Product Ranges. Est. 1978.
WE STRIVE FOR THE HIGHEST STANDARD IN QUALITY & DURABLE BATHROOM PRODUCTS.
CHEAPEST HIGH QUALITY BATHROOMS IN BRITAIN? 8mm Thick Acrylic Baths. Whirlpools In Stock
Five Minutes Walk From Bradford City Centre & Bradford Interchange Bus & Rail Station.
Specialising In Complete White Bathroom Suites & Discontinued Obsolete Bathroom Spares & Replacements Parts Since 1978.
All At Low Trade Prices... Even To The Public. Most Items Stocked & Ready To Take Away The Same Day.
JSL Bathrooms. Bradford. Yorkshire.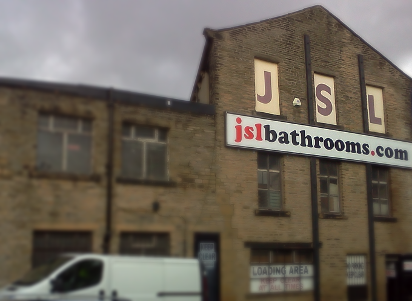 Thank You For Making JSL Bathroom suites Your First Stop For All Your Bathroom Requirements.
About Us. Where We Are. Map. How To Find Us. JSL Bathrooms. Bradford. Yorkshire.
Specialising In Obsolete Bathroom Fittings, Baths, Basins, Toilets And Taps In Discontinued Lines And Colours. We Also Sell Complete Contemporary Bathroom Suites In Many Ranges To Suit Low Or High End Budgets & Have Been Based At Our Bradford Premises On Carter Street (Just Off The A650) Since 1978. One Of The Reasons Why We Have Been So Successful Over The Decades Has Been Our Firm Commitment To Low Prices On Good Quality Merchandise. Our Respect For, And Devotion To Our Customers Needs Has Seen Us Gather A Loyal And Valued Customer Base, That Reaches Far Beyond Our Roots In Yorkshire. It Is A Great Compliment To Our Business Ethic And Practice, That After So Many Years Of Trading We Continue To Supply Both The Same Loyal People, And New Customers Alike With Their Bathroom Equipment.
MOST OF OUR PRODUCTS ARE PROUDLY MADE IN THE U.K. & EUROPE.
浴室 Baños الحمامات łazienki Salle de bain浴室 बाथरूम 浴室浴室seomraí folctha 浴室باتھ Badezimmer באַטרומז kamar mandi badeværelser バスルームkoupelny bagni μπάνια ystafelloedd ymolchi phòng tắm ванні кімнати სველი წერტილი badkamers vannas istabas
JSL Means Bathrooms In Any Language.