Roca Close Coupling Kit AV0021700R
For Connecting A Roca Close Coupled Toilet Pan & Cistern
Doughnut / Donut Washer And Close Coupling Bolts With Washers And Nuts.
Roca Branded Name. Reliable & Durable Quality.
JSL Bathrooms - Bradford - West Yorkshire. Plumbing Merchant Fittings & Supplies

Roca Close Coupling Kit. £8. Kit Consists of Large Donut Washer. Two Metal Bolts. Four Metal Nuts. Two Plastic Wing Nuts & Bolt Washers (Six Metal & Four Rubber).
AV0021700R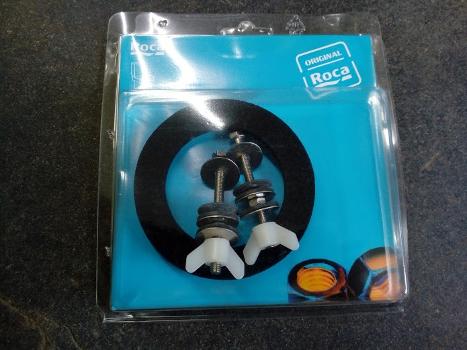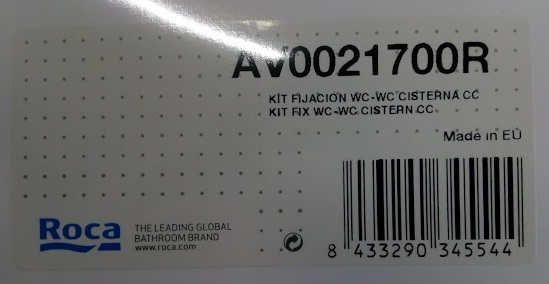 AV0021700R Roca Close Coupling Kit For Pan & Cistern. Washer & Bolts.
Made In The EU
Roca Branded Doughnut Washer With Bolts. Bolt Washers & Nuts.
This Kit Is Compatible With The Vast Majority Of Close Coupled Toilet Pans & Cisterns That Don't Require A Close Coupling Plate, But Where The Base Of The Cistern Is Pre-drilled With Close Coupling Bolt Holes. Also Compatible With Most Other Manufacturers Close Coupled Pans & Cisterns.
Roca close coupling toilet pan and cistern kit. AV0021700R Branded quality plumbing fixtures, fittings and supplies. Metal Bolts. Metal Washers. Rubber Washers. Metal Nuts. Plastic Wing Nuts.
Roca, roca kit, toilet cc kit, roca close coupled, roca toilet fixings, roca toilet kit, metal bolts, close coupled toilet fixings, close coupled, donut washer, doughnut washer, roca donut washer