Oyster. Colour Bathroom Equipment
Discontinued and Obsolete Bathroom Replacement Parts and Sanitaryware
JSL Bathrooms. Bradford. Yorkshire. Specialists in hard to find bathroom ceramics and Plastics.
Branded Names at low trade prices. Oval Acrylic Vanity Bowl. Inset.
Oyster is a greyish blue colour. By the side of blue it looks grey and vice versa.
Oyster is a greyish blue or a bluish grey if you prefer. Always makes blue look grey and grey look blue.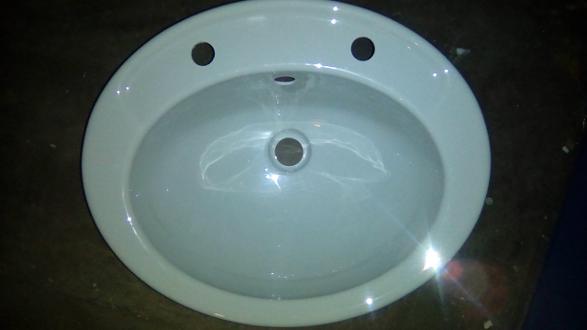 Pictured. An acrylic Inset Oval Shaped vanity bowl by Aquarius in the colour Oyster. Two Tap Hole.
Naturally there will be a variance due to model of camera used and the equipment that you are currently viewing this page on. Unless you are certain of the colour you require, there is no substitute for bringing a physical sample in to our store with you.